Technifex XR™
Since the beginning of military training, the continuous goal has always been to make training as realistic as possible, while maintaining the highest level of safety. With all of the advancements in training, the recreation of "Danger Close" engagements in fully immersed scenarios has evaded the training arena……until now.
Operational now, is the true future of realistic military training. Technifex XR brings more than visual imagery to the participants. Imagine experiencing not only the sights and sounds of close combat, but the heat, smell, impact and other sensations, all in a measurable and controlled environment. Add to this, real-time drop and play satellite imagery, the ability to track biometrics, the integration of tracking and training reporting systems and the inclusion of artificial intelligence (AI).
For over 35 years, Technifex and been a leader in bringing realism and immersive sensations to the entertainment and amusement park industry. We have now brought that full and complete immersion to the Department of Defense and its Coalition partners training capabilities. Technifex Extreme Reality systems can be designed and produced to support Special Operations Ground Force Command & Control, Joint Terminal Attack Control, Rescue and Recovery Operations, Undergraduate Pilot Training & Selection, Flight Ejections Operations, Advanced Fighter & Flight Training, Military Freefall and Airborne Jump operations and more.
Cage Code: 59HM4
Duns #: 131255457
Capabilities:
Fire Effects (Real or Simulated)
Water Effects (Mist and Rain)
Atmospheric Effects (Smoke and Fog)
Wind Effects
Scent Systems
Motion Base/Platform Systems
Simulated Explosions
VR/AR/MR
Impact Effects (Impact Ram and Concussive Wave)
Lightning Effects
Video/Audio Systems
Control Systems
Engineering
Fabrication
---
NAICS / PSC Codes
611430 Professional and Management Development Training
611512 Flight Training
512191 Teleproduction and Other Postproduction Services
541330 Engineering Services
541340 Drafting Services
541430 Graphic Design Services
541511 Custom Computer Programming Services
541618 Other Management Consulting Services
541611 Administrative Management and General Management Consulting Services
541690 Other Scientific and Technical Consulting Services
541710 Research and Development in the Physical, Engineering, and Life Sciences
332510 Hardware Manufacturing
332710 Machine Shops
332721 Precision Turned Product Manufacturing
332999 Miscellaneous Fabricated Metal Products Manufacturing
333318 Other Commercial and Service Industry Machinery Manufacturing
334310 Audio and Video Equipment Manufacturing
336413 Other Aircraft Parts and Auxiliary Equipment Manufacturing
71311 Amusement Parks and Arcades
71321 Casinos
33324 Industrial Machinery Manufacturing
3353 Electrical Equipment Manufacturing
6930 Operation Training Devices
---
Memberships
---
Clients
IED Battle Drill Trainer: Joint Improvised Explosive Device Defeat Organization (DoD)
Hazmat Trainer: Los Angeles County Fire Department – Del Valle Training Center
Rumble Platform: Institute for Creative Technologies – University of Southern California
Simulated Fire System (FauxFire®): DEA Clandestine Laboratory Training and Research Center
Consultant: Office of Government Services: New York State Homeland Security
Consultant: Fort Irwin National Training Center
---
Capability Statement
---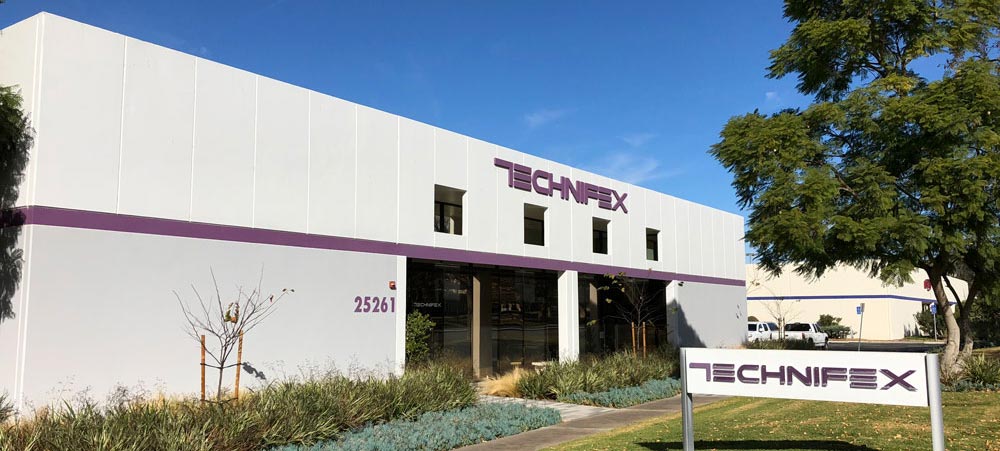 Technifex Organizations
---
Technifex Inc.
Technifex is a global leader in technical design, engineering and fabrication of special effects and show systems for theme parks, attractions, immersive experiences, museums, resorts/hotels, iconic permanent exhibits, training simulators, live shows and events.
Technifex has produced shows and special effects for attractions around the world, including unforgettable features for major theme parks, world-renowned casinos, high profile hospitality venues, major trade shows, special events, retail centers, museums and theaters. Technifex engineers and craftsmen have expertise in the design and production of turnkey attractions, live and simulated fire and flame features, fluid and water effects, show action equipment, mechanical simulation systems, visual illusions, control interfaces, and specialty audio and video systems.
Technifex Products LLC.
Technifex Products carries lines of special effect specialty products originating from patents developed by its parent company Technifex. Technifex custom designs, engineers and produces technical show elements for theme parks, attractions, museums, and themed experiences.